From
CNTV
http://english.cntv.cn/program/bizasia/20130105/102949.shtml
Looks like gold is as popular as iPhones. People lining up out the door to buy...
Watch Video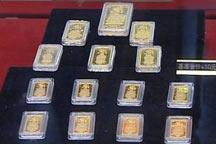 Play Video
By Xu Fangliang
Gold is a popular investment option in China, particularly during the holidays. This past Christmas and New Year, demand was healthy.
During the three days of the New Year holiday, investors in Shanghai rushed to jewelry stores and lined up for hours in order to buy gold jewelry, gold bars and gold coins. Presented with increasing opportunities to buy gold, Chinese consumers seemed happy to put up with some inconvenience.
A buyer said, "I came here at 3 am. Thinking about buying gold kept me warm."
"Gold bar are great for maintaining their value," said another.
A shop worker says although the general economic environment is not so good, that actually has made for a better turnover.
Shao Xiaomeng, Manager Assistant st Shanghai First Asia Jewelry Company, said, "The sales during this new year's holiday was very good, with consumers interested in gold investment. The line in front of our cashier was up to 20 meters long. Sales were up by more than 15 percent compared to last year."
Shao's business growth reflects booming gold consumption nationwide. The World Gold Council says gold demand from China took up one third of total world demand last year. The purchase volume of gold bars alone in the mainland last year exceeded 200 tons, 50 percent up from a year earlier. What's more, that figure does not include the Hong Kong market, where big growth occurred as well.
An expert says the increase in Chinese people's income accounts for most of the increased purchasing.
Lian Ping, economist from the Bank of Communications, said, "Companies are getting richer, and so are people. It is important for them to find an asset that will maintain its value. The value of gold has increased substantially over the past few years. China's increased gold consumption will help the country maintain its wealth."
While China now ranks ahead of even India as the world's largest gold consumer, the country's gold consumption per capita is only 4.6 grams, much less than the world average of 20 grams. The World Gold Council predicts gold consumption in China will double by the year 2020.